Full Disclosure – I originally wrote the draft for this in September 2019. It feels good to FINALLY hit that publish button!
Mompreneur Life: My Story So Far
With Internet access being available to EVERYONE in this day and age – it is no wonder why so many moms are choosing (and able to choose) to support the family right from the comfort of their own home. Being a mompreneur was not something I had set out to be or even consider when I was mapping out my life plan in High School. But here I am and this is my story so far. 
Life Brings Unexpected Surprises
Once upon a time, I was an angsty teenager trying to figure out what the heck I want to do with my life. I understood I had a rare opportunity – that space between lack of responsibility & a ton of responsibility – so I tried to read everything I could get my hands on – about art, spirituality, life purpose, life skills, etc – while I could. 
I practiced my art nonstop (yes, I was an artist once upon a time – sorry to all my teachers who watched me drawing in class rather than paying attention to the curriculum) because I knew there was nothing else that made sense for me to do. I was going to be a fine artist, produce sweet artwork that would be marveled at by all & paid tons to make it. 
I became obsessed with the Chakras and drew them or painted them multiple times. some of these are unfinished – as usual – but still beautiful!!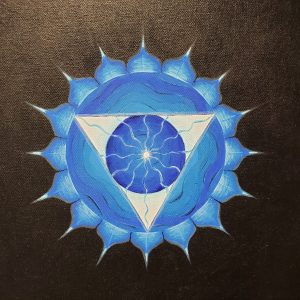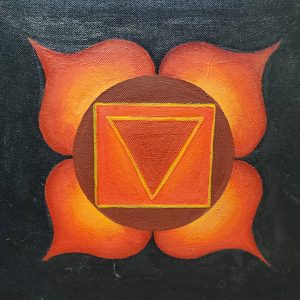 Speed up to when I went college scouting and was abruptly told by one college admission interviewer that I better change my focus if I wanted to make a career worthwhile. 🤯 Hard Gulp. At first, I wanted to prove this lady and her "I went for a Fine Arts degree and look where I am at now" attitude wrong. But I second guessed myself and decided she might be right, maybe I need to secure my future a bit better. So I switched gears to go after a Graphic Design degree. I could still use my creativity and have a much better job outlook, right? 
Life Changer
Sweet. I now have direction in life and am following the American Dream. I decided to take a year break between graduating and starting college for reasons that seemed sound at the time, but can't remember what the heck I did that for. 🤔 Then I got the amazing news that I was pregnant. 
Okay, at the time – being 18 years old – my initial reaction was not "this is amazing news!". It was more like, "OMG what the heck am I going to do, what is everyone going to think, how am I going to support this little person", and more interesting – "this wasn't part of my plan yet!"
Of course, this derailed my plans – but just slightly. I waited a few more years to go to college and decided to go Online in order to be home with the babe and make my dreams of getting my college education to happen. I wanted to prove to my little guy that no matter the situation, you go after your dreams. 
I was not able to be in person, but I was recognized at graduation from Full Sail University – receiving the Salutatorian Award and the Advanced Achievement Award. Woot Woot!
Choosing to Be At Home
Plenty of other life events were happening as I decided to pursue my education, but one thing that kept me pushing was making sure I was a role model to my kiddo. No way I could back down from my dreams – what message would that send to this little guy when he grows up? Even though I had a child at a young age, I was able to still pursue my education, hold a consistent job, maintain a consistent home, and provide all the love I could give. 
I honestly thought that 1 kid would be all that I would have. But yet again, life isn't all that we expected – I fell in love with an amazing man and we eventually grew our family by 3 more kids. Say Whaaaaat?!? 
Yep, 3 more kids that I also raised while finishing my Bachelor's degree and completing my Master's degree. During this time I was on the job hunt. However, all those amazing job outlooks don't look so amazing once you have a kid or two (or three or four) under your belt and now moving elsewhere for better opportunities does not seem as likely. Even around my area, I was either deemed as competition or not experienced enough in the "real world". 
Me and the kiddos during meetings and at my graduation. 🙂
Doing it My Way
So I thought, screw it all! And started my own freelance business working from home. This made sense in so many ways. I could now be my own boss by taking on clients that I chose, market myself how I wanted – not by means of other people, and can be there for my family at all times. Of course, it was (and still is) extremely hard. Time management was not my best skill set (dreamy Pisces here 🙋🏻‍♀️). 
Did I mention that I was still doing all of this while working a regular waitressing job? Oh, forgot that part. I loved serving and would go back to doing it if the right opportunity came around. I loved being able to meet new people every day and make people happy (most of the time – can't please them all). But after my third child was born, I committed to being a full-time work-from-home momma. 
Sometimes. I still wonder if it was the best choice. Plenty of other mommas use daycare and such is life – you gots to do what you gots to do. But I am so thankful that we were able to be in a position where I could stay home and bring in extra mula to pay the bills. I won't lie, it wasn't a ton of money like I had envisioned for myself initially, but it was something and I was doing what I loved. 
A Day In The Life
Nowadays, I am getting back into the groove of entrepreneurship after deciding to get back into a "regular" job as an employee. It went well for a bit, then not so much. The family will always come first in this house, so I had to do what was best for the family, even if it meant we might struggle for a brief moment in time while I get back into marketing my biz. 
I spend my day getting the family ready for school/work, dropping kids off and coming back home to start my day. Some days are kept for cleaning up the house, some days are spent solely working on curating and scheduling social media content, and other days are mixed with anything and everything. It can be a struggle with all the running around – who says who have to STAY AT HOME to be a stay-at-home mom – but something I would not change for anything. 
Over the course of the summer, I had a bit of a burnout breakdown and realized I needed to schedule more fun time for myself. Realizing it is OKAY to not be working. Because, if anyone can relate – too much work is just no fun and makes mama go coo coo bananas. I would love to get back into painting but may have to wait until baby number 4 is a bit older. It seems like every time I get the paints out, her radar goes off and she wants me NOW!! 
There are days that I struggle to hold an adult conversation with others and most of the time I have some sort of children's song running in the back of my mind like a broken record. But all is well. Usually, the adults I talk to are other mamas, so they get it. High Fives to all of you! 
Back in Business
As of now, I am focusing on the back end of business as I decide how to move forward with my services and promote the biz. I have a variety of online courses in the works, am planning more local live events, and trying to figure out how I can continue to best support my fellow biz ladies. 
Although I am in the field of social media, my own accounts have lacked the love I give to clients, so that will be a focus in the near future. But I am not too worried about it. The one thing about social media is that it could be gone tomorrow. So building my business up in other ways is necessary to keep a good foundation. 
Oh yes, and the kiddos do get involved with business when possible. They help me make some design "decisions" and even my oldest has been learning how to use Adobe programs to create artwork for himself – he made his own logo! <3
What The Future Holds
I don't know what the future holds. My life has changed in so many ways, that it is hard to even imagine what I will be doing in another 20 years. Probably nothing related to the field I am in now. Matter of fact, I have been indulging my teenage curiosities by diving into Astrology, reiki, and other more natural/spiritual pursuits. Who knows, by this time next year, I might be a full-fledged astrologer talking about how to use your birth chart to map out your own destiny. 😉
One thing I do know is that my kids have grown up so far to see their mama working her butt off, chasing her dreams, and providing fun (and sometimes very stern) household experiences. We encourage our kiddos to dream big, stick to their truths, be accountable for their actions, be oh so kind, and enjoy the beauty that surrounds them. 
Being a Mompreneur was not something I set out to do, but it may be the very best thing I will do. My life has taken so many turns and I bet will continue to surprise me. I am learning to go with the flow and just live the best life I can in a positive home environment.
Gosh there is so much more I could write, so many things skipped – maybe I should write a book?! Put that on the to-do list. 🤣
Tell Me About You! 
Are you a mompreneur? I would love to feature you! Are you not a mompreneur but just as amazing?! I would love to feature you too!! Send me a message about yourself and let's get you seen! Check out the other featured females on my site- give them a follow- send them a dm- heck send ME a dm to be featured!